Updates regarding Coronavirus (COVID - 19)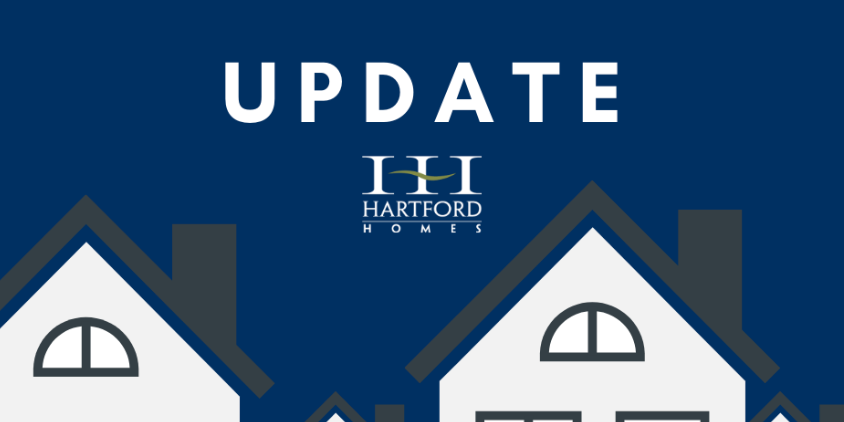 We at Hartford Homes are committed to the safety and well-being of our customers, our communities and our team members. With that in mind, it's important that we communicate to you the procedures we are following to minimize risk and address the concerns generated by Coronavirus (COVID-19). Below are the steps we are taking to ensure everyone feels safe when working with us and visiting our communities:
1. Social Distancing: staying arms-length distance (5-6 feet) from others as much as possible
2. Open by appointment only
3. Should you schedule an appointment, we will greet you with a friendly smile or wave instead of a handshake
4. Increased cleanings at our corporate office and all of our model and Quick Move-In homes
5. We will be offering virtual meeting options 
6. We will be extending our own emergency leave policy to make sure that any team member who is sick or has been exposed to the virus will remain home and will still receive compensation
7. We ask that you schedule an appointment once you are healthy if you or someone you've been around has been sick, or if you have traveled outside of the country in the last 30-60 days
With historically low-interest rates, now is still a great time to buy a new home. Connect with our Online Sales Counselor, Kendall at 970-716-6088 as she is ready to assist you through a phone call, email or can coordinate a video chat/virtual tour with the onsite team. We continue to sell homes even during the slowdown as we have introduced 15 new homeowners to our Hartford Family over the last ten days alone!  If you have any questions on how we can help you navigate your new home search during the next few months, don't hesitate to reach out.   We are dedicated to helping you find a home that exceeds your expectations and will bring joy and functionality for years and milestones to come!
Buyers Under Contract
Buying a new home is one of the biggest and most exciting decisions you will make in your life, and we are still committed to providing you with the very best experience possible! We are still operating as we typically would to meet your future housing timeline and are taking extra care to keep everyone safe and healthy while doing so. Please note the following:
1. We are open by appointment only
2. You will still partake in construction meetings via video conferencing or phone call
3. You will continue to receive weekly construction updates along with My Home Story updates
4. Closings will still be at the Hartford Homes Main Office and we will inform you if that should change
5. When you visit any of our offices, know that we have prepared properly for your arrival
6. If you or someone you've been around has been sick, we ask that you re-schedule your appointments/meetings. We ask the same if you have traveled outside of the country in the last 30-60 days
Hartford Homes is dedicated to navigating this time with you, all while keeping you safe, healthy and excited about your new home! We will continue to monitor this situation and will send out updates as needed. We are grateful to serve you and appreciate your confidence and trust in us.
---