Market Rates are Rising - Hartford's Rates are FALLing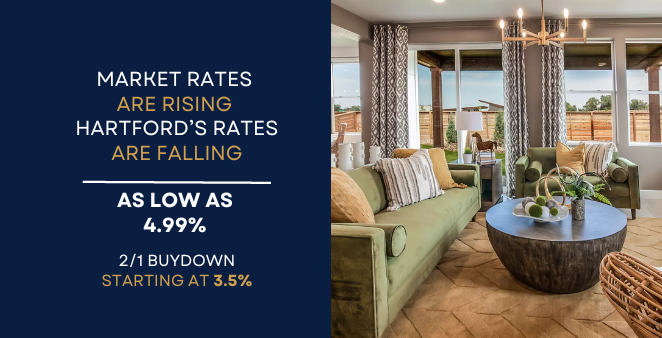 Ready to secure that home, but financing difficulties have you down? WE CAN HELP! We have two exciting solutions to help you secure your dream home!


Incentive rates are only applicable when using Harmony Home Lending. 
Must sign a contract by October 15th and close by November 15th to qualify.
*Special financing rate offer is paid for by Hartford Homes up to allowable limit.
Any remaining buydown fees will be covered by the buyer. Offer is for select Hartford Homes home contracts signed by 10/15/2023 and close by 11/15/2013. Buyer must use Harmony Home Lending, LLC to finance the loan. Option A: Receive as low as 4.99% interest rate. Option B: 2-1 Buy down starting as low as 3.5%. Year one rate as low as 3.5%. Year two rate as low as 4.5% and years 3-30 rate is as low as 5.5%. Loan will have a 5.55% Annual Percentage Rate (APR). For a $450,000 loan, the monthly Principle & Interest (P&I) payment is $2020.70 for year 1, the monthly P&I payment for year 2 is $2280.08, and the monthly P&I payment for years 3-30 is $2555.05. The estimated monthly payment does not include tax or insurance premiums. The actual payment amount will be greater. Interest rate based on a 30-year fixed loan with a 25% down payment on a $450,000 loan amount, and assumes a minimum 740 FICO® credit score for the borrower. To receive the promotional interest rates, home purchased must be the borrower's primary residence.
Additional underwriting conditions may apply. Loan must close with Harmony Home Lending, LLC (Company NMLS 2128390). Corporate phone: 970-797-3335. Speak with your loan officer for details. Not a commitment to lend. Borrower must meet qualification criteria.


Looking to only put down 5%? We can lock you in as low as 5.25%!




---